Your daily tasks on the job
At Morgan Stanley, we see great potential in people who have taken a career break for one year or more and are now looking to return to the workplace. Morgan Stanley's Return to Work program is an opportunity to re-engage. During the 16-week paid program, individuals are placed in roles that complement their skills and experience and offer them an opportunity to develop and grow. We invite you to apply for the Return to Work program in Budapest, with opportunities in Finance, HR, Risk Management, Technology, and Wealth Management.
You will be:
- Currently on a career break of at least one year (please note: the one-year eligibility will be calculated as of March 2024, the projected program start date)
- Available to attend the 16 week program, commencing on the 4th March 2024
- Looking for a supportive entry-route back into the workforce
---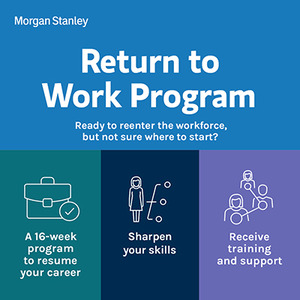 Education
Completed studies
---
Language skills
Intermediate English language skills
---
We are looking for...
- Excellent leadership, interpersonal and communication skills
- Strong problem-solving with analytical skills
- A desire to learn and be intellectually curious
---
Work environment
Morgan Stanley is an equal opportunities employer. We work to provide a supportive and inclusive environment where all individuals can maximize their full potential. Interested in flexible working opportunities? We empower employees to have greater freedom of choice through flexible working arrangements.
---
Professional experience
You don't have to have a background in financial services to have a career with us. We welcome highly motivated candidates from a diverse range of industries. If you're ready to grow personally and professionally—this is the place to do it.
---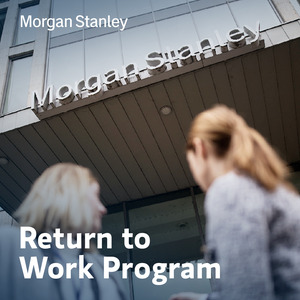 About company
Morgan Stanley is more than a leading financial services firm. With offices spanning 41 countries, our talented and passionate people across the globe bring excellence and integrity to everything we do. Our diverse employees work together, to deliver exceptional ideas and solutions to the world's most complex challenges.
---
Other benefits
You will receive continuous training, mentorship, and professional development to help you learn new skills, build relationships, and gain new on-the-job experiences.
---
Gross salary
1 - 1 Ft
---
Az álláshirdetés valódiságáért, tartalmáért a hirdetés feladója felel.